Our Kids Video Book About Soccer
Interesting Music Video Book For Kids About Soccer
All About Soccer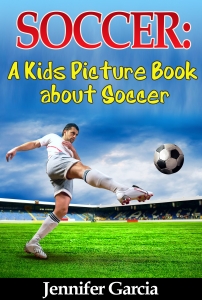 Soccer is a favorite sport of many kids and adults. It is played by over 250 million players in over 200 countries, making it the most popular game in the world. This is perhaps because all you really need is a ball and a group of players.
No one really knows how far back soccer goes, as many places and time periods had games involving kicking a ball. However, in the 19th century a set of rules were emerging to distinguish soccer from other ball-kicking sports.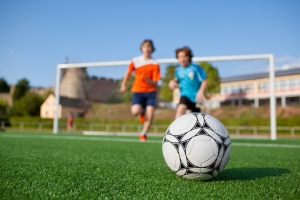 Soccer is also known as "football" in some regions. Officially, it takes eleven players on two teams, with a rectangular field and two goals to play a proper game of soccer. Any part of the player's body may touch the ball, except the hands – only the goalie is allowed to use their hands. Players have become quite skilled at re-routing, passing and deflecting the ball with their head, feet, knees and chest regions.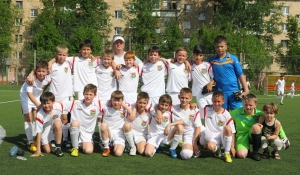 As we mentioned before, the soccer field is rectangular, but is it also sloped at a 5 degree upwards-angle from one end to the other. This is called a "pitch field." The gentle angle of this type of field may not sound tiring to run, but a single player can run upwards of 7 miles (11.2 kilometers) during a single game.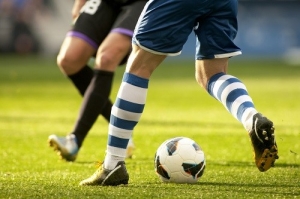 Even though soccer games are played on school grounds, in parks and in backyards, with thousands of recreational, amateur and tournament leagues, the most popular venue is the World Cup. Here the best of the best teams gather every four years to prove who has the skills and determination to bring home the cup. The World Cup is to soccer like the Olympics are to other sports. Different countries will send their best team to compete. Billions of people attend and watch from all over the world.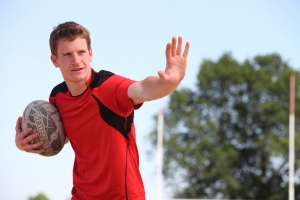 Skilled and good-looking soccer athletes are being treated now with rock star status in many parts of the world. Plus, they are paid very well to play this game. Named World Player of the Year, four times, Lionel Messi from Barcelona, is considered one of the top players today. His abilities are described as "mesmerizing" and it often appears that his foot is "glued" to the ball.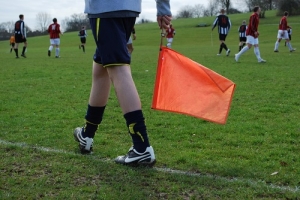 Considered just as talented as Messi, Cristiano Ronaldo from Portugal, may be said to have had less influence on the game of soccer, but that still doesn't stop his stylish hat-tricks and goals-to-game ratio, any less outstanding. These are only a couple of people that have brought soccer into the popular sport it is today.
If your kids love to run around, it's never too early to teach them the skills and flexibility they will need to be a great soccer player. Even if they have no higher aspirations than just some neighborhood recreation, this game is still a great way to get outdoors and have some fun.
More Fun Video Books:
Children's Twins Place: A Kid's Online Book on Twins
Children's Bats Place: A Kid's Online Book on Bats
Children's Swimming Place: A Kid's Online Book on Swimming
Children's Paris Place: A Kid's Online Book on Paris
Children's Whales Place: A Kid's Online Book on Whales
For Our Adult Readers: