Our Kids Video Book About Grizzly Bears
Interesting Video Book For Kids About Grizzly Bears
All About Grizzly Bears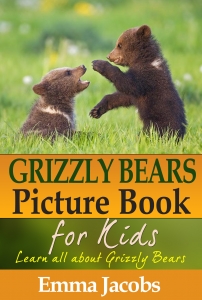 The grizzly bear (Ursus arctos horribilis), also known as the silvertip bear, the grizzly, or the North American brown bear, is a subspecies of brown bear (Ursus arctos) that generally lives in the uplands of western North America. This subspecies is thought to descend from Ussuri brown bears which crossed to Alaska from eastern Russia 100,000 years ago, though they did not move south until 13,000 years ago.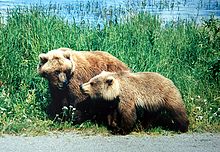 Except for cubs and females, grizzlies are normally solitary, active animals, but in coastal areas, the grizzly congregates alongside streams, lakes, rivers, and ponds during the salmon spawn. Every other year, females (sows) produce one to four young (commonly two) which are small and weigh only about 500 grams (1 lb). A sow is protective of her offspring and will attack if she thinks she or her cubs are threatened.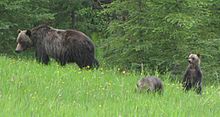 Most adult female grizzlies weigh 130–200 kg (290–440 lb), while adult males weigh on average 180–360 kg (400–790 lb). The average total length in this subspecies is 198 cm (6.50 ft), with an average shoulder height of 102 cm (3.35 ft) and hindfoot length of 28 cm (11 in). Newborn bears may weigh less than 500 grams (1.1 lb). In the Yukon River area, mature female grizzlies can weigh as little as 100 kg (220 lb). On the other hand, an occasional huge male grizzly has been recorded which greatly exceeds ordinary size, with weights reported up to 680 kg (1,500 lb). Although variable from blond to nearly black, grizzly bear fur is typically brown in color with white tips. A pronounced hump appears on their shoulders; the hump is a good way to distinguish a black bear from a grizzly bear, as black bears do not have this hump.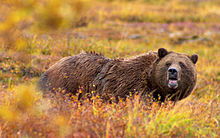 Grizzly bears have one of the lowest reproductive rates of all terrestrial mammals in North America. This is due to numerous ecological factors. Grizzly bears do not reach sexual maturity until they are at least five years old. Once mated with a male in the summer, the female delays embryo implantation until hibernation, during which miscarriage can occur if the female does not receive the proper nutrients and caloric intake. On average, females produce two cubs in a litter and the mother cares for the cubs for up to two years, during which the mother will not mate. Once the young leave or are killed, females may not produce another litter for three or more years, depending on environmental conditions. Male grizzly bears have large territories, up to 4,000 km2 (1,500 sq mi), making finding a female scent difficult in such low population densities.
More Fun Video Books:
Children's Bugs and Insects Place: A Kid's Online Book on Bugs and Insects
Children's Heaven Place: A Kid's Online Book on Heaven
Children's Fish Place: A Kid's Online Book on Fish
Children's Dogs Place: A Kid's Online Book on Dogs
Children's Polar Bears Place: A Kid's Online Book on Polar Bears
For Our Adult Readers:

[/fusion_builder_column][/fusion_builder_row][/fusion_builder_container]